Find the best winter tires for your vehicle.
The holidays are right around the corner … along with harsh winter weather conditions. Don't let bald, low-traction tires keep you from making it to your family dinner. It's the perfect time to get your winter tires installed in preparation for the cold weather, snow and ice.
Don't have winter tires? In need of a replacement? Not sure which set is best for your car? We're here to help!
Hear from Matthews Tire Appleton auto shop manager and winter-tire-expert Dave Flunker to learn everything you need to know to find the best tires for your car this winter.
Winter Tires 101: the Basics
What exactly are winter tires? Though many people refer to them as snow tires, they don't just help you drive through the snow on the road.
Made with a special, flexible compound, winter tires are specially designed to provide superior traction in cold weather. Though the tread design of a winter tire does help to make driving through snow easier, drivers can benefit from winter tires even with no snow on the ground.
"Winter tires are designed to work best at 45 degrees or below," Dave explains. "The rubber stays soft enough to form to the road and give you better traction than all-season tires would."
Winter tires vs. all-season tires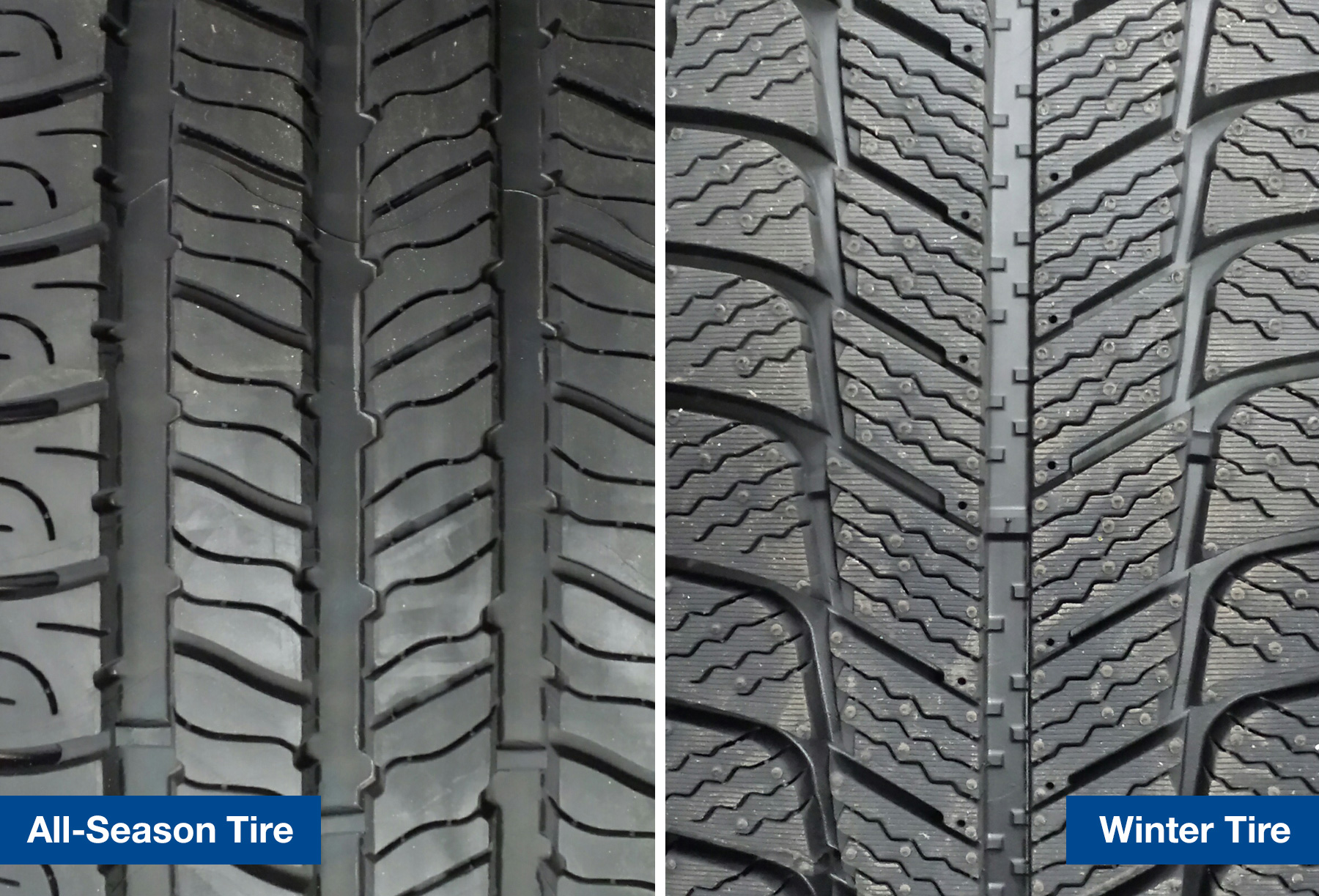 While winter tires are made with flexible rubber that stays soft in cold weather, all-season tires typically get too firm in the cold to keep a good grip on the road.
You may also notice in the side-by-side photos above that the tread of a winter tire is much different than the tread of all-season tires. This unique tread pattern is specially designed to give you extra traction on the road and keep less snow from getting packed into your tires.
If you don't want to go through the hassle of changing your tires multiple times a year or investing in winter tires, Dave says there is an all-season tire option that can perform in both hot and cold temperatures.
For all-season tires that will get you through winter in Wisconsin, Dave advises looking for tires with the 3-Peak Mountain Snowflake symbol. "The 3-peak symbol means the tires are winter-rated and can be driven year-round," he says.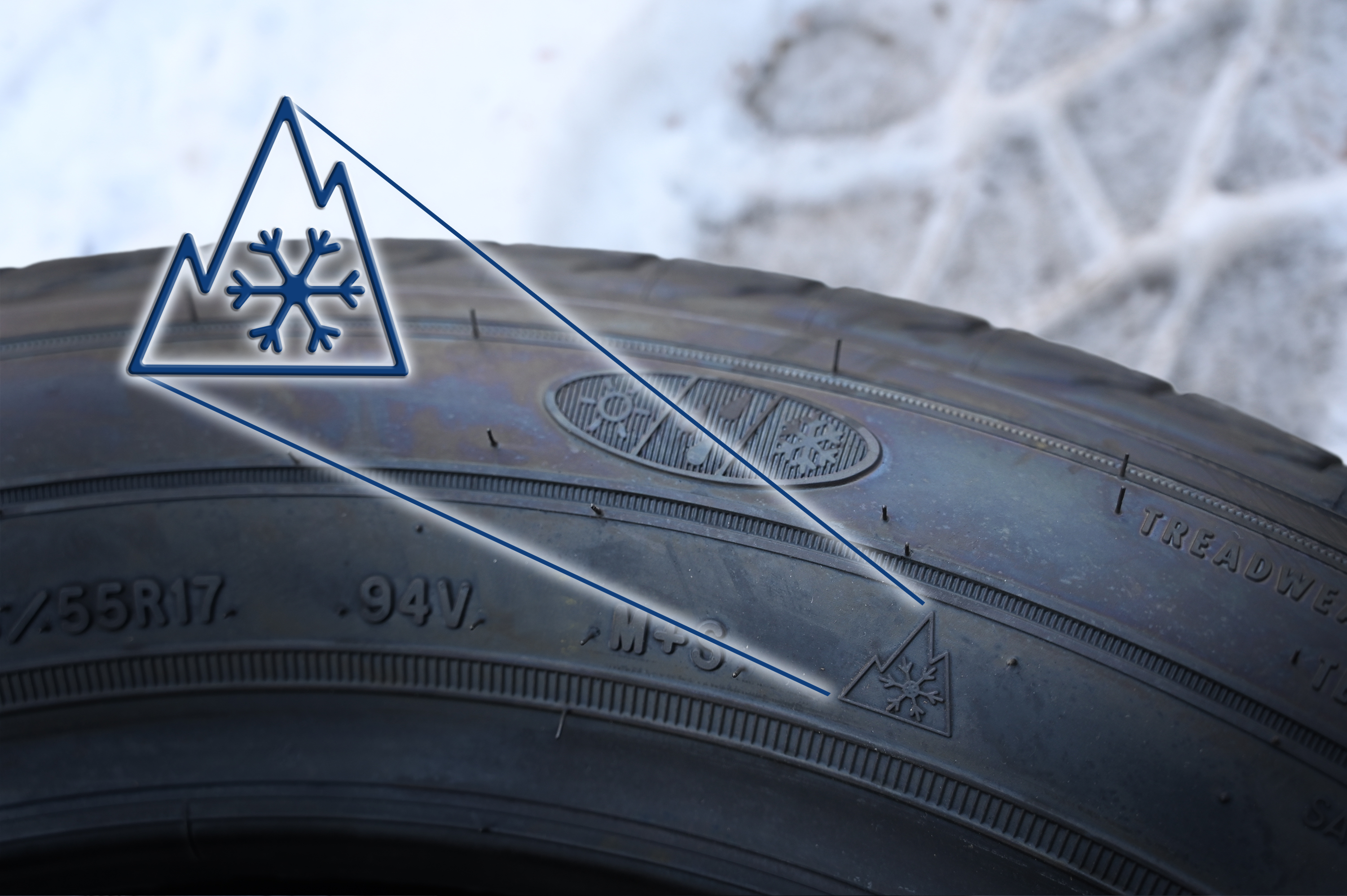 Are Winter Tires Worth It?
According to Dave, anyone driving consistently in temperatures below 45 degrees can benefit from the extra traction winter tires provide.
That's especially true for drivers throughout Wisconsin, who have to spend months driving through the cold, snow and ice.
Of course, it's important to know the investment you'll be making when you purchase new winter tires. It'll depend on the size and type of vehicle you drive, as well as the brand of tires you buy.
Cost of buying new winter tires
At Matthews Tire, the average cost of a winter tire ranges from $175-$250, depending on brand and size. The best way to get the most accurate price estimate is to use the tire finder tool.
You'll likely have various options for winter tires no matter what car you drive. Which should you choose?
Best winter tires
Though finding the best winter tires will depend entirely on the size of your car, Dave recommends two winter tires in particular for their performance and durability:
The Bridgestone Blizzak winter tire and the Michelin X Ice winter tire.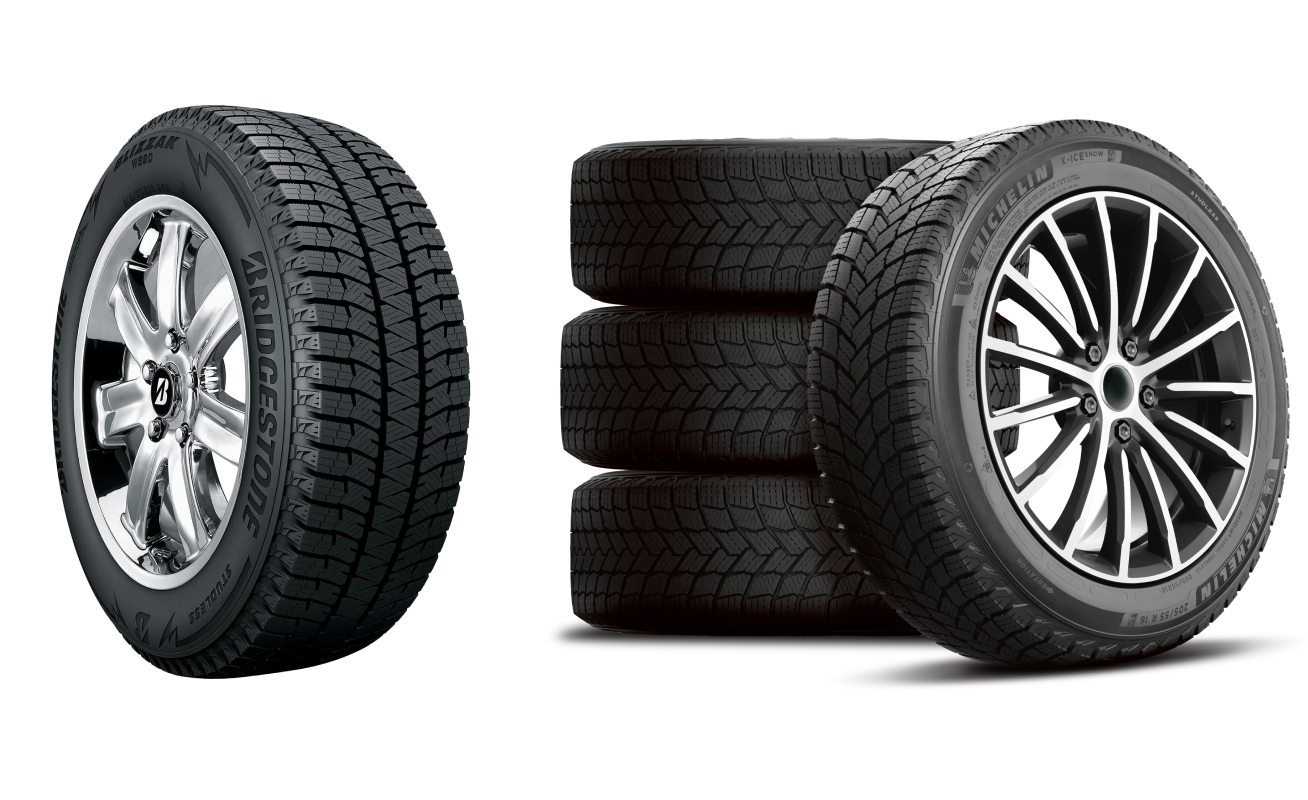 Frequently Asked Questions
How soon should I install my snow tires?
Don't wait to install your winter tires when the snow is already falling, if you can help it.
"Bring your car in as soon as temperatures drop to 45 degrees," Dave advises. "Even if the weather changes before getting cold again, there's no harm in putting your winter tires on early."
That and it's a good idea to get ahead of the busy season for tire installations. Schedules start filling up quickly around November, so it's a good idea to schedule your appointment early.
Can I keep snow tires on my car year-round?
You can, technically, keep winter tires on year-round, but this will of course wear your tires down much faster. You'll get the most out of your investment by rotating between all-season and winter tires seasonally.
If your winter tires are at the end of their life, however, Dave usually recommends keeping them on to get the most out of them. Since you won't be able to use them for another cold season, you can run them out through the spring and get a replacement next season.
How long do snow tires last?
It depends on how much you drive and the quality of the tire.
Typically, Dave says, "you should be able to get three seasons out of winter tires. That said, I've seen many people whose winter tires are usable for up to four seasons."
No matter how often you drive in the winter, it's a good idea to check your tires after the season and assess the condition of your winter tires. Don't just go off of a recommended timeline. Particularly harsh conditions and other variables can affect the lifespan of your winter tires.
Save Big on a Full Set of Winter Tires
Investing in top-quality winter tires is one of the best ways to give yourself extra safety on the road all winter long. If you haven't installed your winter tires already, now is the time!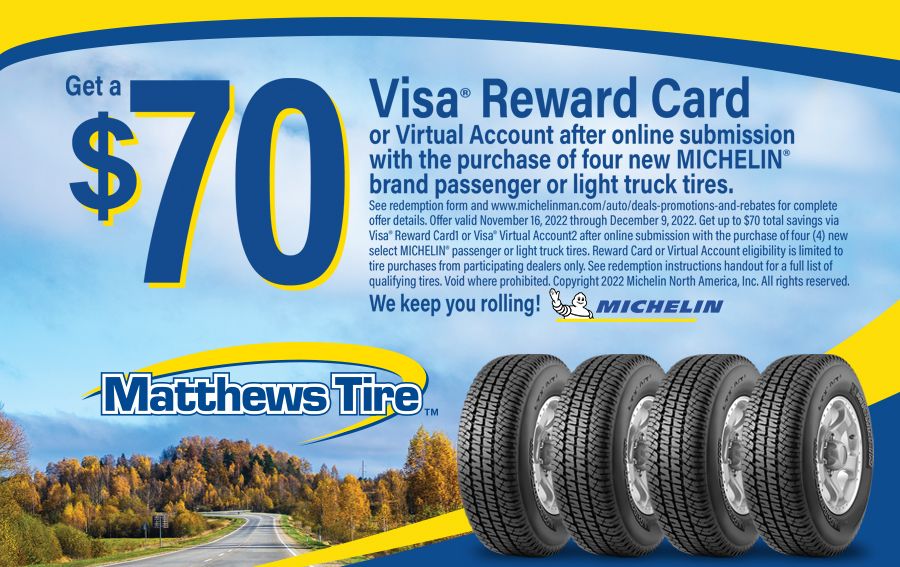 Get rewarded for winterizing your vehicle during Michelin month! Nov. 16 through Dec. 9, 2022, get up to $70 back on a VISA® Reward Card or Virtual Account when you buy select sets of four Michelin® tires. Terms and conditions apply, see store for details or visit Michelinman.com.